(1) The raw materials are made of high quality polyethylene without biological toxicity; They are produced in the production environment of 100,000 grade purification workshop, and multiple quality system certification to ensure that the products are free of DNase, RNase, protease and exogenous DNA/RNA, pyrogen, and the sterilized plastic Bottles are sterilized by gamma ray; no washing, no need of tedious clean pretreatment, that is to say, it can be used when opened. It greatly improves the packaging efficiency for users. The inner bags are thickened to ensure the safety of transportation and storage.
(2) Varieties are complete, 8 ml, 15 ml, 30 ml, 60 ml, 125 ml, 250 ml, 500 ml, 7 specifications and 35 varieties, which can meet the packaging in different specifications and storage requirements. There are transparent, white and amber colors to choose from. Amber plastic reagent Bottles have excellent shading function and can be used to store light sensitive substances.
(3) Its mouth is designed professionally for preventing leakage, without inner cover or inner pad protection, excellent sealing performance, 100% to ensure no leakage,easy access for liquid.
(4) The imported high-quality PP/PE HDPE raw material is chosen which has excellent physical and chemical properties, strong compressive, impact and acid-alkali resistance; the polypropylene has high temperature resistance of 121℃ and the polyethylene has low temperature resistance of -80℃, which meets the sterilization treatment requirements in high temperature and high pressure.
(5) High-precision digital control production equipment is introduced. The product is exquisite workmanship, comfortable handle, uniform thickness of the Bottle body, high gloss, no chromatic aberration, high homogeneity between different batches.
(6) High-end moulding technology and surface treatment technology are adopted in the process. The inner and outer surfaces of plastic bottles are smooth and the reagents are not attached to the wall, which can greatly reduce the sample loss.
(7) The product has strong interchangeability and can replace imported products. It can provide customized LOGO services and mold opening and customized production services for users.
| | |
| --- | --- |
| Product Name | Plastic Reagent Bottle |
| Material | HDPE |
| Capacity | 8ml-500ml |
| Color | Transparent, White, Amber |

| | | | | |
| --- | --- | --- | --- | --- |
| Product No. | Capacity | Color | Material | Size (Dia. × Height) (mm) |
| 614002 | 8ml | White | HDPE | 24.9×45 |
| 614012 | 8ml | Brown | HDPE | 24.9×45 |
| 607002 | 15ml | White | HDPE | 24.7×58.31 |
| 607012 | 15ml | Brown | HDPE | 24.7×58.31 |
| 608002 | 30ml | White | HDPE | 33.91×62.45 |
| 608012 | 30ml | Brown | HDPE | 33.91×62.45 |
| 609002 | 60ml | White | HDPE | 38.45×84.77 |
| 609012 | 60ml | Brown | HDPE | 38.45×84.77 |
| 610002 | 125ml | White | HDPE | 50.32×99.74 |
| 610012 | 125ml | Brown | HDPE | 50.32×99.74 |
| 611002 | 250ml | White | HDPE | 60.53×131.23 |
| 611012 | 250ml | Brown | HDPE | 60.53×131.23 |
| 612002 | 500ml | White | HDPE | 72.18×166.69 |
| 612012 | 500ml | Brown | HDPE | 72.18×166.69 |
Secure and Reliable Chemical Storage with HWTAi's White Reagent Bottle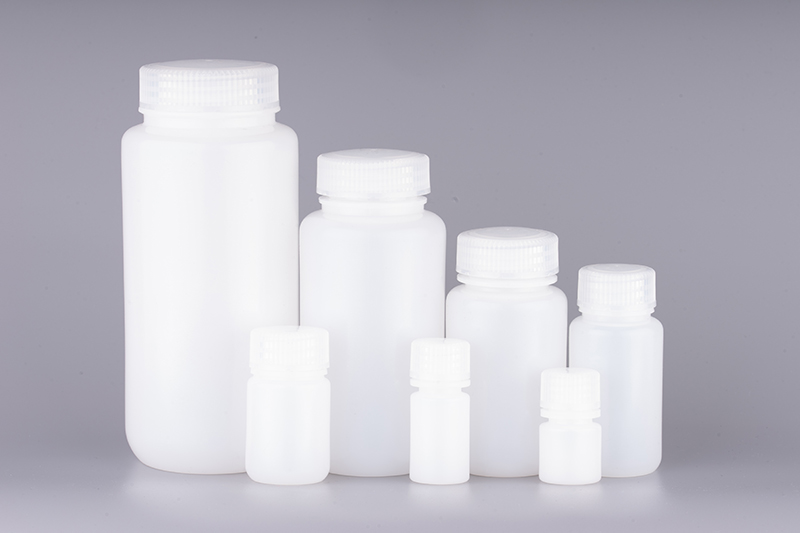 When it comes to handling and storing chemicals in a laboratory setting, safety and reliability are paramount. HWTAi, a trusted brand in scientific supplies, presents its premium White Reagent Bottle, designed to meet the demands of secure chemical storage with utmost excellence. Offering superior quality and a reliable design, the White Reagent Bottle by HWTAi is the ideal choice for researchers and scientists seeking peace of mind in their storage solutions.
Made with precision and using high-quality materials, the HWTAi White Reagent Bottle ensures the utmost durability and longevity. Its sturdy construction is specifically engineered to withstand the harshest chemicals, minimizing the risk of accidents or leaks that could compromise both the user's safety and the integrity of the lab environment.
One noteworthy feature of the HWTAi White Reagent Bottle is its white opaque material, which provides an added layer of protection for sensitive chemicals. By blocking out light, the bottle minimizes the risk of degradation or alteration that could occur due to exposure to UV light. Additionally, the opaque bottle material is chemically resistant, further safeguarding the stored chemicals from undesired reactions.
The HWTAi White Reagent Bottle is designed with both safety and convenience in mind. Equipped with a secure screw-on cap, it ensures an airtight seal, minimizing the chances of leaks or spills. This feature is particularly crucial when handling volatile or corrosive substances, as it guarantees maximum containment and reduces the potential for accidents.
Furthermore, the white opacity of the bottle material acts as an additional protective measure for hazardous chemicals. By shielding the contents from external light sources, the White Reagent Bottle significantly reduces the chance of chemical degradation and ensures the stability and reliability of the stored substances.
HWTAi offers the White Reagent Bottle in a range of sizes to cater to different volume requirements. Whether performing precise measurements or needing to store larger quantities, researchers can choose the appropriate bottle size to facilitate accurate and efficient experiments while minimizing waste. Moreover, the uniform dimensions of the bottles make them stackable, optimizing storage space in the laboratory.
With the HWTAi White Reagent Bottle, researchers can confidently handle and store a wide variety of chemicals. The bottle's resilience allows it to withstand temperature fluctuations, making it suitable for both hot and cold storage conditions. This flexibility ensures that the stored chemicals remain stable and intact, providing reliable and consistent results during laboratory experiments.
In conclusion, the White Reagent Bottle by HWTAi offers researchers and scientists a secure and reliable solution for chemical storage. With its durable construction, opaque white material, airtight seal, versatile size options, and temperature resistance, this bottle provides maximum safety and protection for the stored chemicals. Choose HWTAi for your laboratory supplies and experience excellence in secure chemical storage.