This Needle is produced with good quality stainless steel. It could be used for several tubes and various specifications are available.
Model

Length(inch)

Color

Package

XLPⅡ-18G

1"

11/4"

11/2"

Pink

100/5000

XLPⅡ-20G

1"

11/4"

11/2"

Yellow

100/5000

XLPⅡ-21G

1"

11/4"

11/2"

Green

100/5000

XLPⅡ-22G

1"

11/4"

11/2"

Black

100/5000

XLPⅡ-23G

1"

11/4"

11/2"

Blue

100/5000
Exploring the Efficiency and Benefits of Multi-Sample Needles in Blood Collection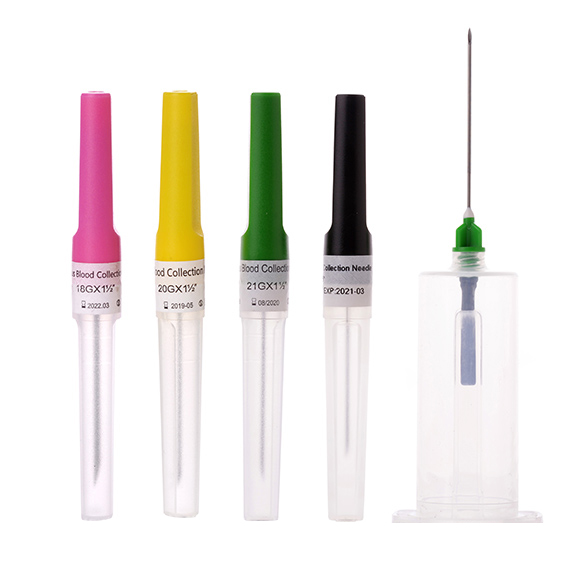 The demands of accurate and efficient blood sample collection continue to increase within the healthcare industry. To meet these demands, multi-sample Needles, also known as multi-draw or Vacutainer needles, have emerged as a valuable tool in phlebotomy procedures. Designed with multiple tubes or chambers, these specialized needles allow healthcare professionals to collect multiple blood samples from a single venipuncture site.
Streamlining Blood Collection:
Multi-sample needles offer a convenient solution for streamlining blood collection processes. Traditionally, each blood sample required a separate puncture and dedicated needle, leading to increased procedure time and a higher risk of complications. With multi-sample needles, healthcare professionals can collect multiple samples using a single puncture, significantly reducing the time and effort required for blood collection. This efficiency is particularly beneficial in settings with high sample volumes or limited resources.
Minimizing Patient Discomfort:
One of the key advantages of multi-sample needles is their ability to minimize patient discomfort. By using a single puncture point, patients experience less pain and discomfort compared to multiple punctures. Additionally, multi-sample needles are designed to have a smooth and controlled needle insertion, further contributing to patient comfort during the procedure. Minimizing patient discomfort leads to improved patient satisfaction and can alleviate anxiety related to blood collection.
Reducing Contamination Risks:
Using multiple needles for each blood sample poses a higher risk of contamination and needlestick injuries for both healthcare professionals and patients. Multi-sample needles mitigate these risks by eliminating the need to change needles for each sample. This reduces the chances of cross-contamination between samples and minimizes the potential for accidental needlestick injuries. The integration of safety features in some multi-sample needle designs further enhances user and patient safety.
Enhancing Laboratory Processes:
Efficiency in the laboratory is paramount when processing numerous blood samples. Multi-sample needles simplify the labeling and organization process, as each tube collected with a single needle is typically labeled sequentially. This ensures accurate identification and reduces the chances of errors during sample processing. With streamlined blood collection and improved organization, laboratories can operate more efficiently, leading to faster turnaround times for diagnostic test results.
In conclusion, multi-sample needles provide significant benefits to both healthcare professionals and patients during blood collection procedures. By allowing the collection of multiple blood samples with a single puncture, these specialized needles streamline the process, reduce patient discomfort, and minimize contamination risks. Furthermore, they enhance laboratory processes by simplifying organization and improving turnaround times. The adoption of multi-sample needles in phlebotomy and blood collection procedures reflects their valuable contributions in optimizing efficiency, patient comfort, and overall quality of care.