The lancing device is used with compatible disposable sterile lancets to draw capillary blood from the fingertip, palm (at the base of the thumb) or forearm,for blood glucose testing or other is no cream or lotion on the test site.
Ergonomic Design Easy to carry Mini-sized Painfree Small vibration Adjustable 10 penetration depths for correct blood volume Hygienic Discard used lancet with ejector for safety disposal
Item

Description

Specification

Color

Length

Chosen part

Package

03-13091

Lancing Device
Type-mini
10 depth
levels

White+Gray

91mm±1mm

AST

1pc/box
100pcs/case

03-13103

Lancing Device
Type-II
5 depth
levels

White+Blue

103mm±1mm

AST

03-13127

Lancing Device
Type-I
5 depth
levels

Beige

127mm±1mm

AST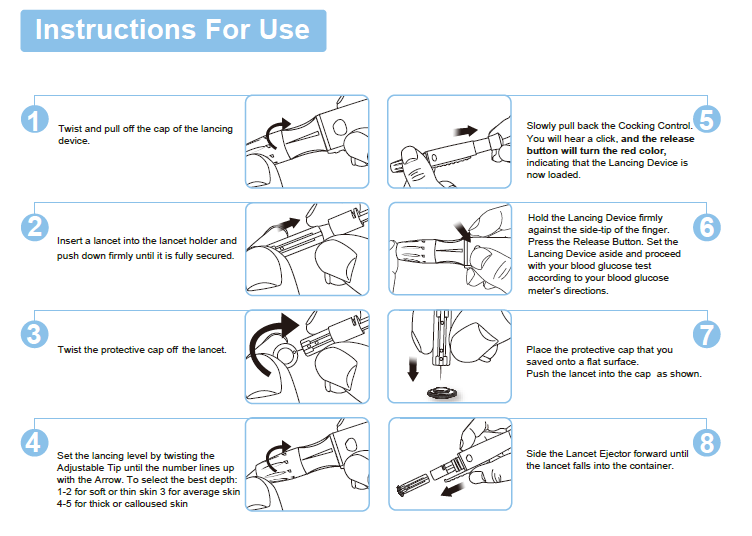 Lancing Device: Innovation for Quick and Painless Blood Sampling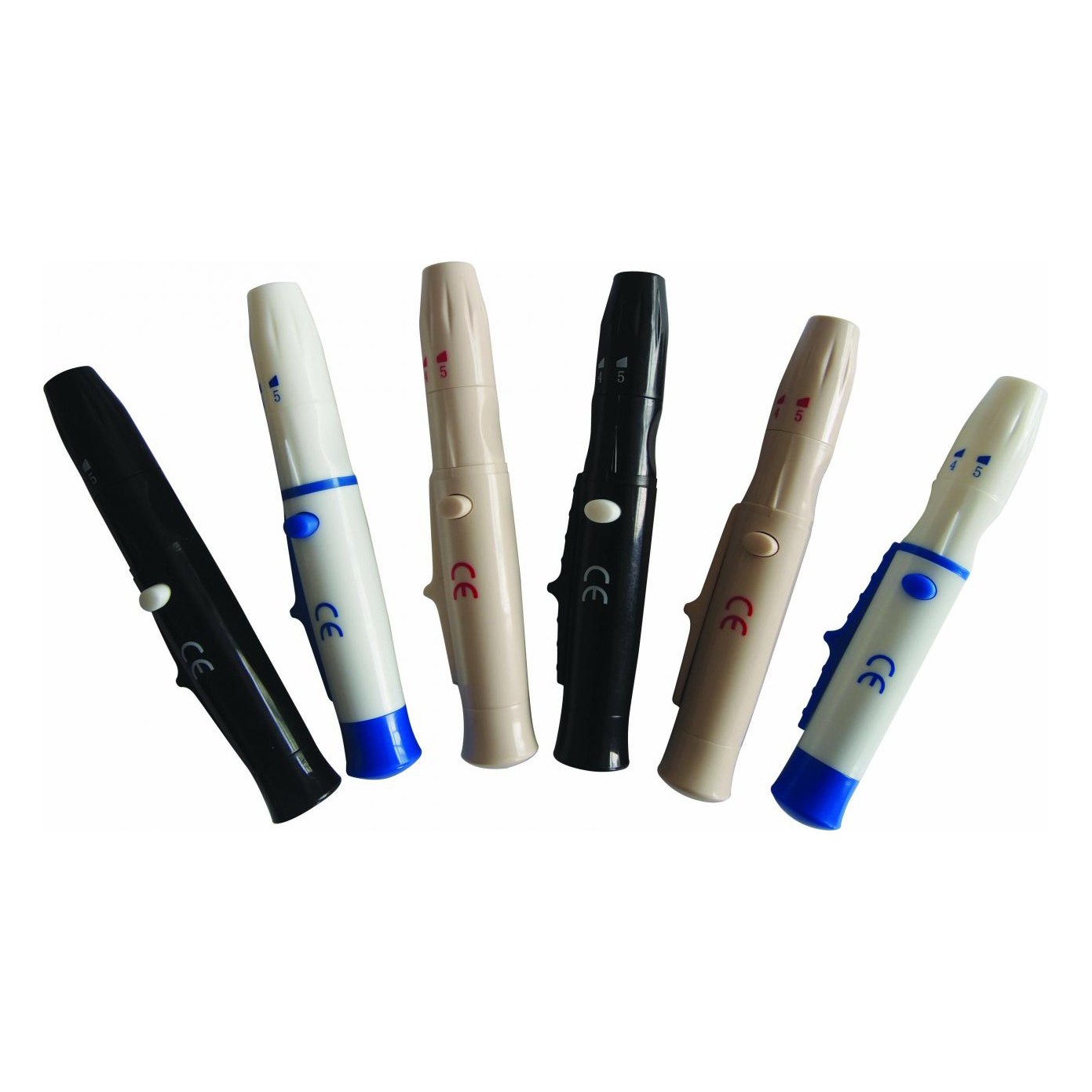 Blood sampling is a routine yet crucial aspect of medical diagnostics, often required for various procedures such as glucose testing. Traditionally, this process involved pricking the finger with a lancet, a method that could be painful and discomforting for patients. However, the advent of lancing devices has revolutionized blood sampling, offering a convenient and virtually painless alternative.
Enhanced Patient Comfort:
Lancing devices are designed to offer a pain-free blood sampling experience. These devices use innovative technology and precision-engineered lancets to create a controlled and gentle puncture of the skin, minimizing pain and discomfort for patients. Additionally, the adjustable depth settings on lancing devices allow for customization depending on individual skin thickness, further optimizing patient comfort.
Quick and Efficient:
With lancing devices, obtaining a blood sample has become quicker and more efficient. The devices are equipped with user-friendly features and mechanisms that ensure easy and precise blood collection. Some lancing devices have spring-loaded mechanisms that automatically retract the lancet after use, reducing the risk of accidental Needlestick injuries and maintaining the overall hygiene of the procedure.
Accuracy and Reliability:
Lancing devices play a critical role in ensuring accurate and reliable diagnostic results. The controlled and consistent puncture depth provided by these devices allows for the collection of an adequate blood sample for testing. This eliminates the variability that may occur with manual finger pricks, leading to more consistent and precise glucose level readings in diabetic monitoring and other blood-based tests.
Convenient and Portable:
Lancing devices are designed to be portable and convenient for use at home or in healthcare settings. Their compact size and battery-operated functionality make them easily transportable for individuals who require regular blood sampling. This portability allows patients to monitor their glucose levels or carry out other necessary blood tests without the need for frequent visits to healthcare facilities.
In conclusion, lancing devices have revolutionized the traditional finger-prick method of blood sampling, offering a quick, painless, and convenient alternative. These devices prioritize patient comfort while ensuring accurate diagnostic results. With features like adjustable depth settings, automatic lancet retraction, and portability, lancing devices have become an essential tool in various healthcare settings and for individuals who require regular blood sampling. Embracing this innovation not only enhances the patient experience but also facilitates more accurate and efficient blood-based diagnostic procedures.