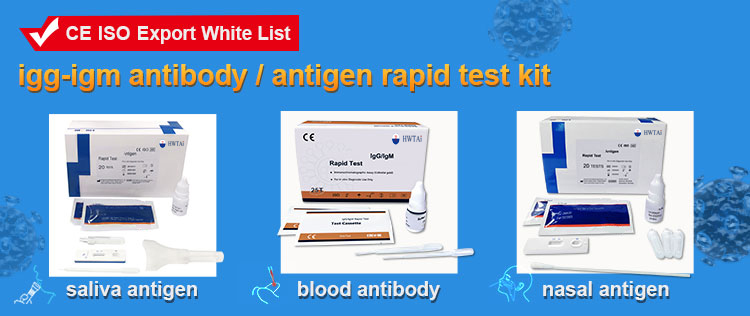 PRINCIPLE

The Dengue IgG/IgM Rapid test is a lateral flow chromatographic immunoassay.The test cassette consists of: 1) a burgundy colored conjugate pad containing dengue recombinant envelope antigens conjugatedwith colloid gold (dengue conjugates) and rabbit IgG-gold conjugates,2) a nitrocellulose membrane strip containing two test bands (G and M bands) and a control band (C band).The G band is pre-coated with the antibody for the detection of IgG anti-dengue virus, M band is coated with antibody for the detection of IgM anti-dengue virus, and the C band is pre-coated with goat anti rabbit IgG. When an adequate volume of test specimen is dispensed into the sample well of the test cassette, the specimen migrates by capillary action across the cassette. IgG anti-dengue virus if present in the specimen will bind to the dengue conjugates. The immunocomplex is then captured by the reagent coated on the G band, forming a burgundy colored G band, indicating a dengue virus IgG positive test result and suggesting a recent or repeat infection.
Dengue IgG/IgM/NS1 Combo Rapid Test: Accurate Diagnosis for Dengue Fever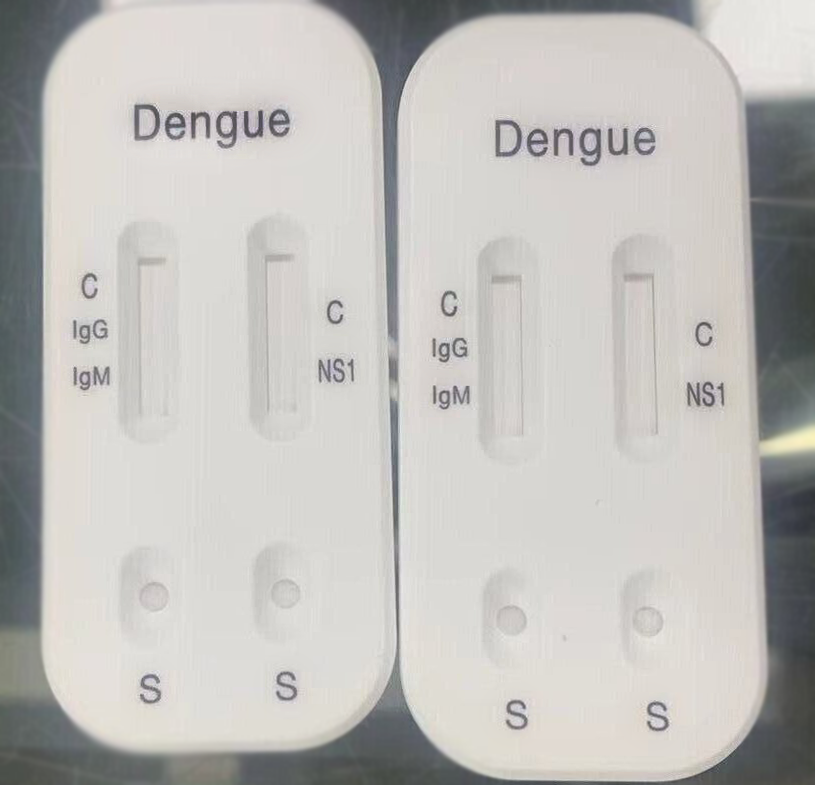 Dengue fever is a debilitating viral illness transmitted by mosquitoes, particularly the Aedes aegypti species. Early diagnosis and management are crucial in preventing severe complications and controlling the spread of the disease. The Dengue IgG/IgM/NS1 Combo Rapid test emerges as a valuable tool for efficient and accurate diagnosis, enabling prompt intervention and effective control measures.
Accurate and Rapid Diagnosis with Dengue IgG/IgM/NS1 Combo Rapid Test: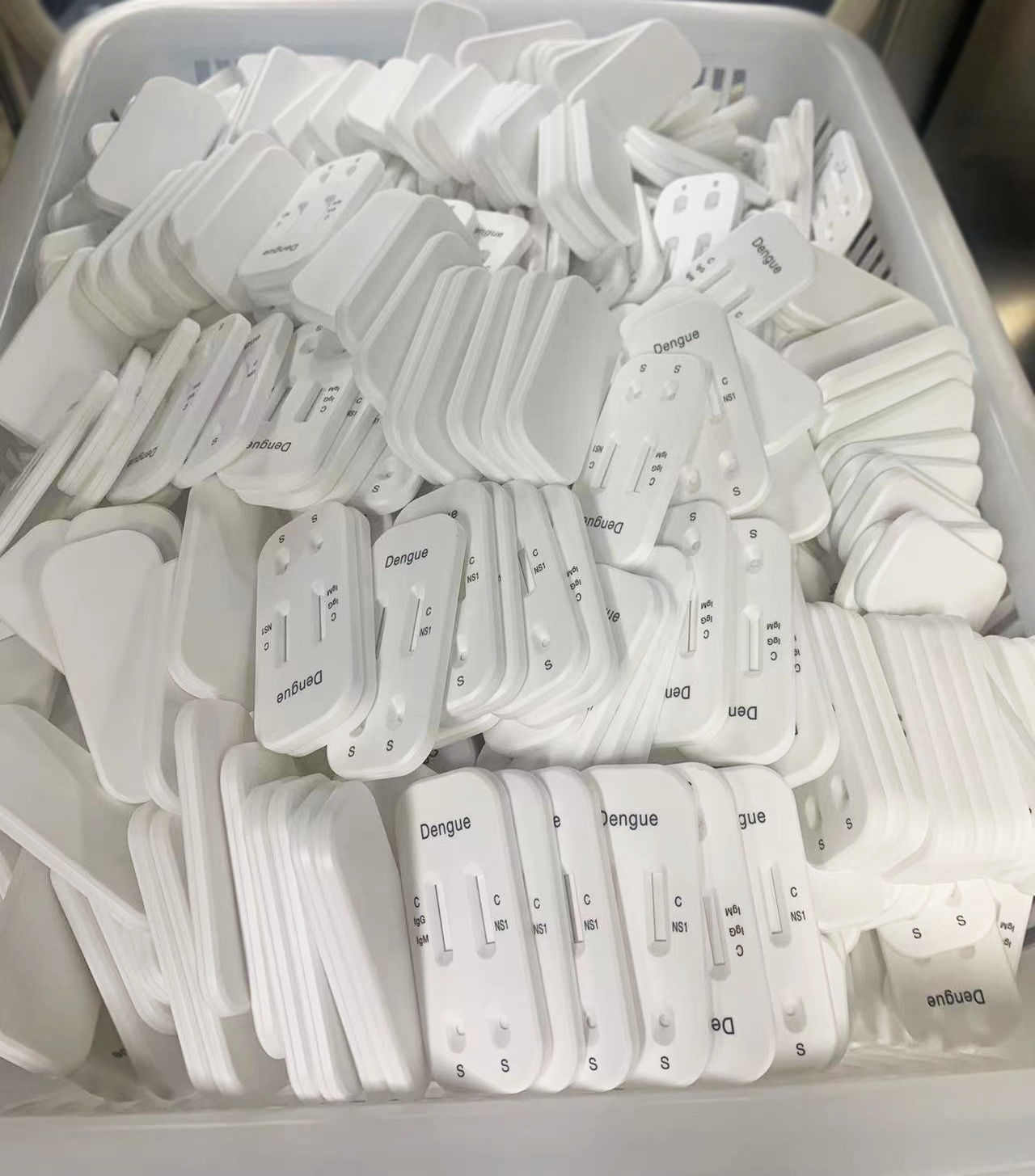 The Dengue IgG/IgM/NS1 Combo Rapid test is a serological test designed to detect the presence of dengue-specific antibodies (IgG and IgM) as well as the NS1 antigen, all within a single test cassette. This comprehensive approach ensures high diagnostic accuracy by minimizing the possibility of false-negative or false-positive results.
The test utilizes a lateral flow immunochromatographic assay, which allows for quick and on-the-spot results. With just a few drops of blood, healthcare professionals can obtain reliable test results within minutes, facilitating prompt diagnosis and subsequent management decisions.
Benefits of Early Dengue Fever Detection:
Early detection of dengue fever is crucial for several reasons. Firstly, it allows healthcare professionals to promptly initiate appropriate treatment and supportive care, minimizing the chances of severe complications or even fatalities. Secondly, early detection plays a vital role in preventing the spread of the disease by initiating vector control measures in affected areas. Lastly, it aids in epidemiological surveillance, enabling authorities to monitor disease trends and implement targeted public health interventions.
Efficient Diagnosis Empowering Healthcare Professionals:
The Dengue IgG/IgM/NS1 Combo Rapid test not only provides accurate results but also streamlines the diagnostic process for healthcare professionals. Its simplicity and ease of use make it suitable for various healthcare settings, from clinics and hospitals to remote or resource-constrained areas where laboratory infrastructure may be limited. With its rapid response time, healthcare professionals can make informed decisions and commence appropriate patient management promptly, allowing for a more efficient use of time and resources.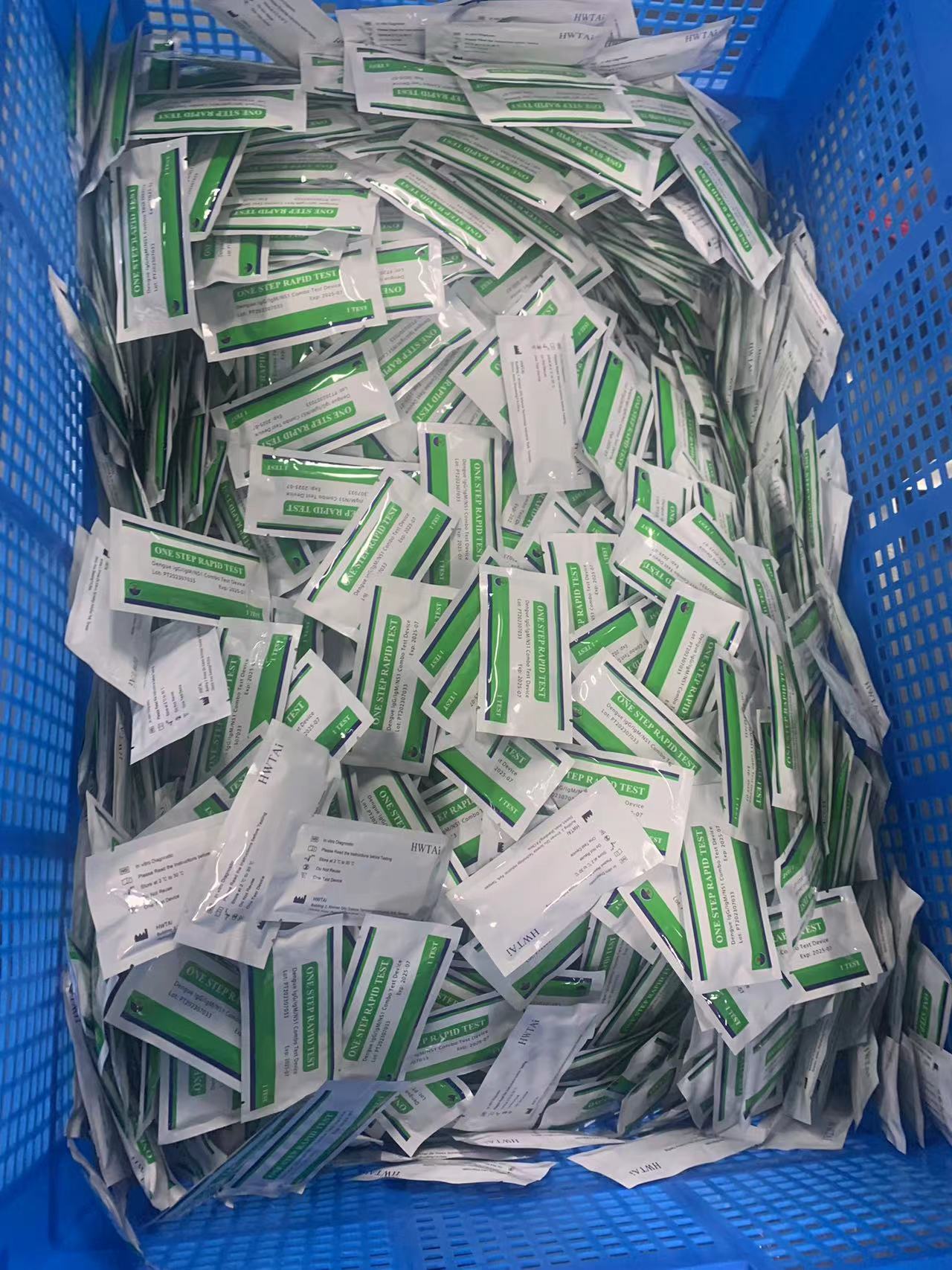 Managing Vector-Borne Diseases with Precision:
Dengue fever is just one of many vector-borne diseases posing global health challenges. The Dengue IgG/IgM/NS1 Combo Rapid Test exemplifies how advanced diagnostics can aid in combating these diseases. By enabling early detection and accurate diagnosis, this test assists healthcare professionals in implementing targeted control measures and preventing widespread outbreaks. Its versatility also opens possibilities for comprehensive surveillance programs, fostering a proactive approach to vector-borne disease management.
Conclusion:
The HWTAi Dengue IgG/IgM/NS1 Combo Rapid Test proves to be an invaluable tool in the accurate diagnosis of dengue fever. Through its simplicity, efficiency, and ability to detect both antibodies and antigens, healthcare professionals can detect the dengue virus early, enabling prompt intervention and effective disease management. As vector-borne diseases persist as global health concerns, embracing innovative diagnostics, such as the Dengue IgG/IgM/NS1 Combo Rapid Test, contributes to a proactive approach in controlling and preventing these illnesses.


Infectious disease Test

Product

Item No.

Description

Specimen

M.Tuberculosis

ITB-302

TB Ab (lgG) test cassette

P/S

Helicobacter Pylori

IHP-602

HP Ag test cassette

Feces

IHP-302

HP Ab test cassette

P/S

Rota/Adenovirus

IRA-622

Rota/Adeno Ag test cassette

Feces

Rotavirus Group A

IRO-602

Rota Ag test cassette

Feces

HbsAg

IHBsg-402

Hepatitis B Surface Ag test

WB/S/P

HbsAb




Hepatitis B Surface Ag test

WB/S/P

HCV

IHC-402

Hepatitis C Virus

WB/S/P

Malaria

IMA-402

Malaria pf Test Cassette

WB

IMA-422

Malaria pf/pv test cassette

WB

IMA-432

Malaria pf/pan test cassette

WB

TORcH

ITH-352

TORcH IgM test cassette

S/P

Strep A

ISA-502

Strep A test

throat Swab

Dengue

IDE-422

WB/S/P

IDE-402

Dengue NS1

WB/S/P

IDE-432

WB/S/P

Chagas

ICS-402

Chagas antibody test cassette

WB/S/P

Chikungunya

ICA-402

Chikungunya ab (IgM) test cassette

WB/S/P

Filariasis

IFI-422

Filariasis IgG/ IgM test cassette

WB/S/P

Typhoid

ITY-422

Typhoid IgG/IgM test cassette

WB/S/P

Toxoplasma

ITO-422

Toxoplasma IgG/IgM test cassette

WB/S/P

Leishmania

ILE-402

Leishmania IgG test cassette

WB/S/P