Introduction
The Babesia Gibsoni Test is a lateral flow immunochromatographic assay for the qualitative detection of antibodies to Babesia gibsoni (B.gibsoni Ab) in dog's serum, plasma and whole blood specimen.
| | |
| --- | --- |
| Product Name | Babesia gibsoni Antibody Rapid Test |
| Specimen | Dog's serum, plasma and whole blood specimen |
| Assay Time | 5-10 minutes |
| MOQ | 800 test kits |
| Delivery time | 1 week after Get payment |
| Packing | 10 test kits/Packing box |
| Storage Temperature | 2-30°C, DO NOT FREEZE. Do not store the test kit in direct sunlight. |
| Shelf Life | 18 months |
Benefits

1. One-step whole blood, serum and plasma testing.
2. Simple operation, non-professional on-site inspection.

3. The detection process is fast, and the result will be displayed in about 15 minutes.

4. The test time is less than or equal to 10 seconds, and it can detect 270 samples per hour at the fastest.

5. The detection equipment is compact, easy to carry, mobile terminal operation, cloud platform quality control.

6. The detection sensitivity is high, comparable to that of enzyme-labeled kits.

Components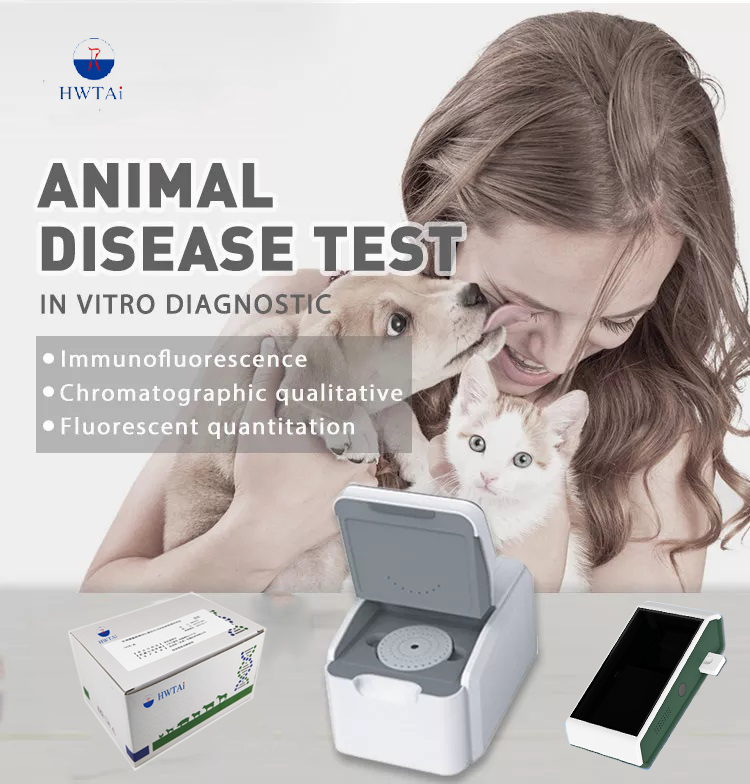 • Test devices
• Droppers
• Single Buffer
• IFU
Principle
The Babesia Gibsoni Test kit is based on sandwich-style lateral flow immune chromatography. The test card has a test window that allows you to watch the analysis run and read the results. Before running the analysis, the test window has invisible T (test) and C (control) areas. When the treated sample is applied to the sample hole on the device, the liquid flows through the surface of the test strip and reacts with the pre-coated recombinant Babes worm antigen. If babes antibodies are present in the specimen, a visible T-line appears. After the sample is applied, the C line should always appear, indicating a valid result. In this way, the device can accurately indicate the presence of babe antibodies in the sample.

Strage and stablity

The kit can be stored at room temperature (2-30°C). The test kit is stable through the expiration date (18 months) marked on the package label. DO NOT FREEZE. Do not store the test kit in direct sunlight.
Other Items
Canine Rapid test Kits

Canine Distemper Virus Antigen Test

Canine Parvo/Corona Ag Combo Test

Canine Distemper Virus Antibody Test

Canine Anaplasma Antibody Test

Canine Parvo Virus Antigen Test

Canine Rotavirus Antigen Test

Canine Parvo Virus AntibodyTest

CPV/CDV Antibody Combo Test

Canine Influenza Virus Ag Rapid Test

Canine Distemper/Adeno Ag Combo Test

Canine Coronavirus Antigen Test

Canine Parvo-Corona-Rota Virus Antigen Combo Test

Canine Parainfluenza Virus Antigen Test

CPV/CCV/Giardia Combo Test

Canine Adenovirus II Antigen Test

Lyme Disease Antibody Test

Canine Adenovirus I Antigen Test

Pregnancy Relaxin Test

Canine CRP Test

Canine Giardia Antigen Test

Canine Toxoplasma Antibody Test

CDV/CPIV Ag combo Test

Canine Heartworm Antigen Test

Canine Distemper/Adeno/Influenza Combo Test

Leishmania canis Antibody Test

Canine Infectious Hepatitis/Parvo Virus/Distemper Virus IgG combo test

Canine Brucella Antibody Test

Canine Ehrlichia/Anaplasma Combo Test

Ehrlichia Canis Antibody Test

Ehrlichia/Lyme/Anaplasma Combo Test

Canine Leptospirosis Antibody Test

Ehrlichia/Lyme/Anaplasma/Heartworm Combo Test

Babesia gibsoni Antibody Test

Ehrlichia/Babesia/Anaplasma Combo Test

Rabies Antigen Test

Ehrlichia/Babesia/Anaplasma/Heartworm Combo Test

Rabies Antibody Test



Test Procedure
-Collect dog's ocular, nasal or anus secretions with the cotton Swab and make the Swab wet sufficiently.
-Insert the Swab into the provided assay buffer tube. Agitates it to get efficient sample extraction.
-If using serum or plasma specimen, use the dropper to collect the specimen.
-Place 3 drops of serum or plasma into the assay buffer tube for dilution. The diluted sample is used as sample extraction.
-Take out the test card from the foil pouch and place it horizontally.
-Suck the treated sample extraction from the assay buffer tube and place 3 drops into each sample hole "S" of the test card.
-Interpret the result in 5-10 minutes. Result after 10 minutes is considered as invalid.
INTERPRETATION OF ASSAY RESULT

- Positive (+): Whether the T line is clear or fuzzy, the "C" line and the region "T" line are present.
- Negative (-): Shows only the sharp C line. No T line.
- Invalid: no color lines in zone C. Whether the T line appears or not.
Clinical Date
| | | |
| --- | --- | --- |
| Item | Relative Sensitivity | Relative Specificity |
| EHR Ab | 98.4% | 98.7% |
| Lyme Ab | 100.0% | 98.5% |
| ANA Ab | 100.0% | 96.0% |
Precaution
-All reagents must be tested at room temperature.
-Do not take the test tape out of the bag before use.
-Do not use the test after the expiration date.
-The components in this kit have been used as a standard batch processing unit for quality control testing. Do not mix parts of different batch numbers.
-All specimens are potentially infected. Must be treated strictly in accordance with the local country's rules and regulations.
Limitation
Canivet cdv-cav-cvi-cpiv antigen combination test is only used for in vitro veterinary diagnosis. All results should be considered with other clinical data and can be discussed with the veterinarian. When a positive result is detected, it is recommended to use further confirmation methods such as RT-PCR.