[DESCRIPTION]
1.Quick PGA suture is a synthetic absorbable surgical suture composed of polymer made from Polyglycolic acid. Quick PGA sutures coated with polycaprolactone and calcium stearate are available dyed (D&C Violet No.2) and undyed. Polyglycolic acid polymer has been found to be non-antigenic, non-pyrogenic with good biocompatibility and degradability. Quick PGA sutures are supplied in various sizes and lengths with or without needles. Quick PGA suture complies with requirements of USP and EP.
2. Quick PGA suture is available sterile which is sterilized using ethylene oxide.
[INDICATION]
Quick PGA suture is indicated for use in general soft tissue approximation where only short term wound support is required and where the rapid absorption of the suture would be beneficial.
Quick PGA suture is also successfully used in ophthalmic surgery for conjunctival sutures.
[ACTION]
Quick PGA suture elicits a minimal acute inflammatory reaction in tissue and is eventually replaced with an in-growth of fibrous connective tissue. Progressive loss of tensile strength and eventual absorption of Quick PGA suture occurs by means of hydrolysis. Absorption tests in rats indicate that Quick PGA suture retains about 45% of the original tensile strength at a week and 15% at two weeks. It takes about 40 days to complete absorption. Normally no need to take out stitches.
[CONTRAINDICATIONS]
1.Quick PGA suture, being rapidly absorbable, should not be used where extended approximation of tissue under stress is required or where prolonged wound support or ligation is required.
2.Quick PGA suture is not intended for use in cardiovascular or neurological procedures.
STERILIZATION
ETO Gas
COLOUR
Violet or Undyed.
RANGE
In USP 8-0 - USP 2 Gauge sizes.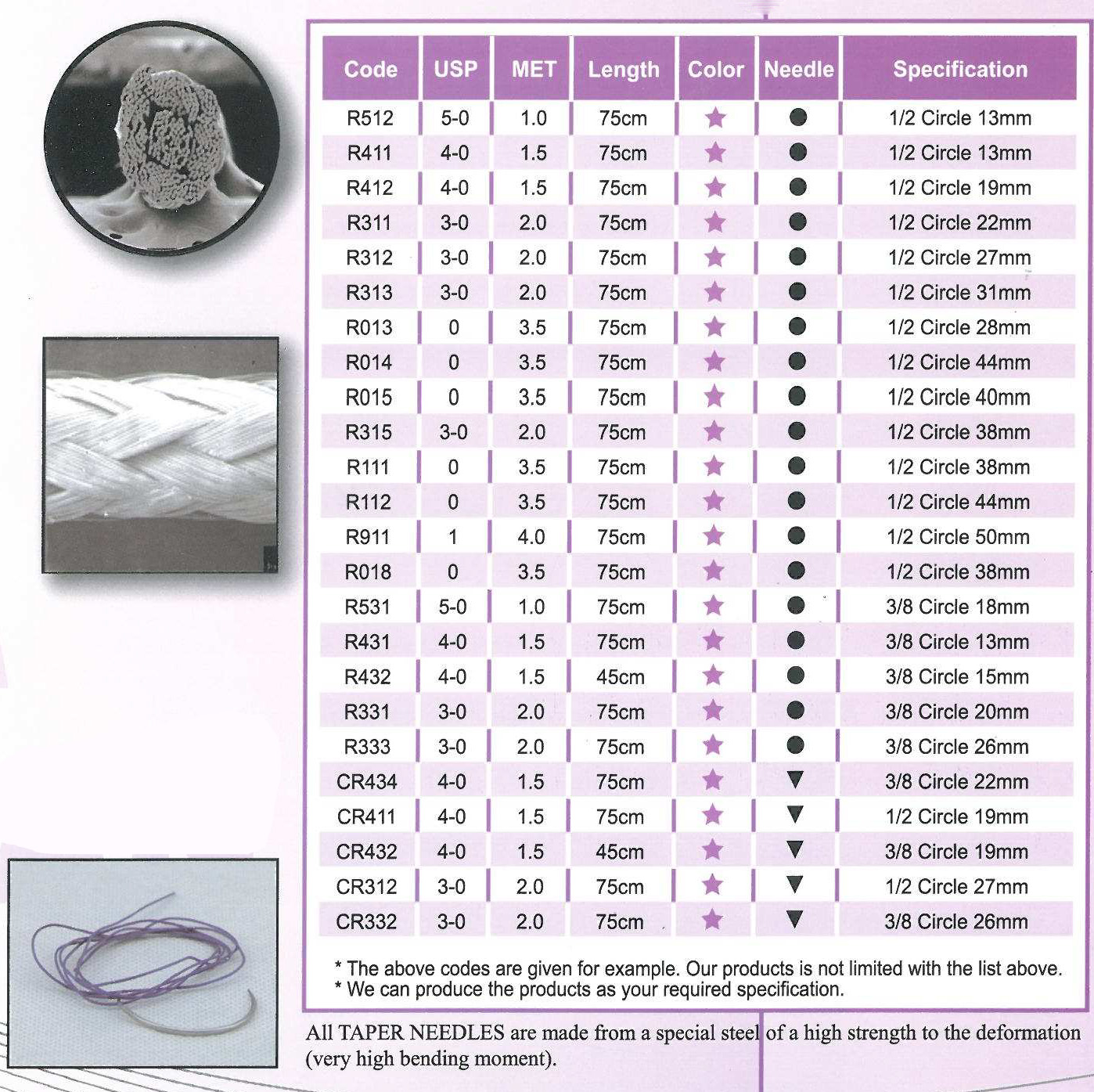 Synthetic Absorbable Surgical Suture