[DESCRIPTION]
1.The Nylon monofilament suture is non-absorbable sterile Surgical Suture composed of monofilament of polyamide nylon 6. The Nylon monofilament sutures are available dyed black or blue and undyed.The Nylon monofilament sutures are supplied in various sizes and lengths, with or without Needles. The Nylon monofilament suture complies with requirements of USP and EP.
2.The Nylon monofilament suture is available sterile which is sterilized using gamma radiation.
TECHNICAL DATA
NYLON is an excellent material, which has the advantageof surface smoothness and completely uniform diameterthroughout the length of thesuture thread. NYLONis pliable, smooth, easy to handle, has excellent knotholding ability and effects minimal tissue reaction.NYLON is extremely strong, it has been extrudedthrough a diamond die into a single monofilament strand.This process producesa high tensile strength material.NYLON is available on a wide rangeof Needles to meetthe varying surgical requirements including
ABSORPTION
It remains for a long time inthe organism, beingdegraded very slowly
COMPOSITION
Polyamide 6
VIRTUES
A high tensile strength, a smooth and atraumaticsurface, minimal capillarityand great handlingqualities
STERILIZATION
Gamma
COLOUR
Black or Blue.
RANGE
In USP 11-0 - USP 2 Gauge sizes..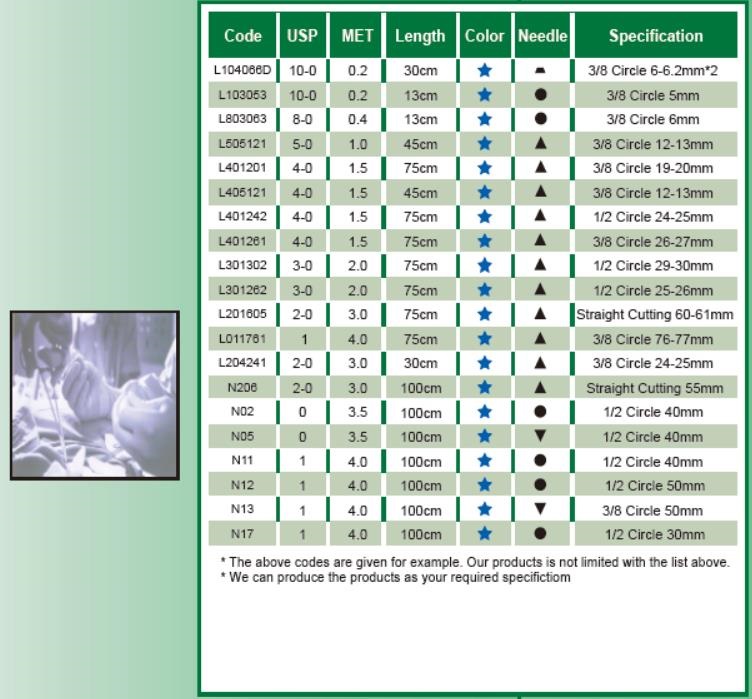 Advancing Surgical Wound Closure: Benefits and Uses of Nylon Suture
In the field of surgical wound closure, surgeons rely on materials that possess strength, versatility, and compatibility with the human body. Nylon suture emerges as a valuable option that meets these requirements, offering unique advantages for effective wound closure. Let's explore the features and benefits of nylon sutures and their role in promoting optimal surgical outcomes.

Non-absorbable and High Tensile Strength:
Nylon sutures are non-absorbable, ensuring that they maintain their integrity throughout the healing process. This property allows them to provide prolonged support and stability to the wound, reducing the risk of dehiscence or reopening. Additionally, nylon sutures exhibit excellent tensile strength, making them ideal for various surgical procedures that require strong and secure closure.
Reduced Risk of Infection:
Nylon sutures possess a smooth surface that minimizes the adherence of microorganisms and reduces the risk of infection. This feature is especially significant in surgeries where infection prevention is crucial. By using nylon sutures, surgeons can lower the chances of postoperative complications and promote quicker wound healing.
Versatile Applications:
Nylon sutures find applications in a wide range of surgical specialties, including general surgery, gynecology, ophthalmology, and dermatology. They are commonly used for skin closure, soft tissue approximation, and vessel ligation. With various sizes and configurations available, nylon sutures provide flexibility for surgeons to choose the most suitable suture for specific surgical techniques, ensuring precision and optimal wound closure.
Easy Handling:
Nylon sutures are known for their ease of use and excellent handling characteristics. They have minimal memory, meaning they resist kinking, curling, or tangling during suturing, facilitating a smoother surgical procedure. This feature allows surgeons to work efficiently and achieve accurate wound closure.
In conclusion, nylon suture offers several advantages for surgical wound closure. Its non-absorbable nature, high tensile strength, reduced risk of infection, and versatile applications make it a preferred choice for many surgeons. By incorporating nylon sutures into their practice, healthcare professionals can enhance surgical outcomes, promote wound healing, and contribute to improved patient recovery. The reliability and versatility of nylon sutures ensure secure wound closure, allowing patients to regain their health and well-being efficiently.