Products: Hip pack
Code: JKP-005
Material: Could be made with SMS, Bi-SPP Lamination fabric, Tri-SPP Lamination fabric, Bi-Viscose Lamination fabric, Tri- Viscose Lamination fabric, PE film, SS
Feature: Disposable and EO sterilizable
Contents:
- 1pc Split sheet drape 200x6500px
- 1pc Side drape 150x6000px
- 1pc Side drape 150x5000px
- 1pc Side drape 75x2250px
- 1pc Instrument table cover 150x5000px
- 2pcs Reinforced Gown size L
- 4pcs Hand towel 30.5x875px
- 2pcs Op tape 10x1250px
- 1pc Legging 40x3000px
- 1pc Mayo stand cover 80x3625px
- 1pc Wrapper 100x2500px
- Customized contents welcome
Packaging: Individual packed in paper&plastic sterile bag
Usage: It is used in the operation room for hip surgery, the product is no irritation, no toxicity and inodorous to human, there is no energy and no side effect to body. Can be used to improve the ease, efficiency and safety of surgical procedure, meanwhile Reduced the risks of accidental cross infection
Packaging: Individual packed in paper&plastic sterile bag, or customized packing


Enhance Hip Surgeries with the Comprehensive Hip Pack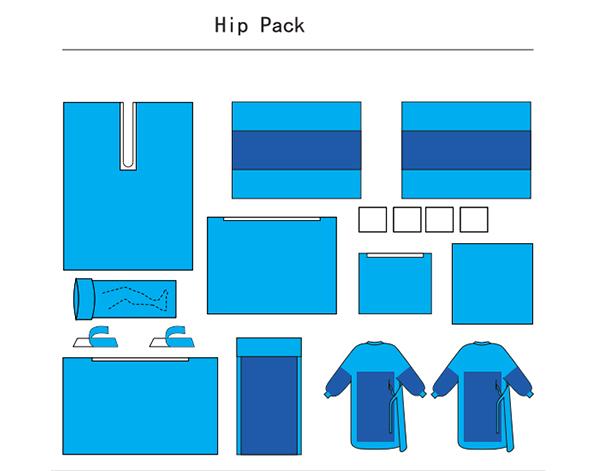 Hip surgeries require meticulous precision and efficient use of specialized tools for optimal outcomes. The Comprehensive Hip Pack has emerged as a reliable solution, offering sterile instruments and surgical tools specifically designed for these procedures. In this article, we delve into the benefits of using the Comprehensive Hip Pack and how it enhances surgical techniques for a wide range of hip surgeries.
At the core of the Comprehensive Hip Pack are the sterile instruments tailored to meet the stringent requirements of hip procedures. These instruments are designed with surgical precision in mind, allowing surgeons to perform intricate maneuvers with ease. The sterility of these instruments ensures asepsis, reducing the risk of infections and promoting better postoperative outcomes.
Additionally, the Comprehensive Hip Pack includes a comprehensive set of surgical tools necessary for successful hip surgeries. From retractors and drills to hip implants and specialized instruments, the pack provides a range of tools that assist surgeons in performing various procedures with efficiency and accuracy. This comprehensive collection saves time and promotes organized workflow during surgery.
Utilizing the Comprehensive Hip Pack enhances surgical precision and efficiency, as surgeons have all the necessary tools conveniently packaged together. The streamlined workflow allows surgeons to concentrate on the intricate procedure at hand, reducing interruptions and optimizing patient outcomes. With the Comprehensive Hip Pack, surgeons can approach hip surgeries with confidence, knowing they have access to high-quality, reliable tools.
Furthermore, the Comprehensive Hip Pack focuses on asepsis, a crucial aspect of successful orthopedic surgeries. The sterile instruments included in the pack minimize the risk of contamination and infections, contributing to faster recovery and reduced complications for patients. This emphasis on patient safety greatly influences the overall success of hip surgeries.
In conclusion, the Comprehensive Hip Pack proves to be an indispensable asset in orthopedic surgeries involving the hip. By providing surgeons with sterile instruments and specialized tools, this comprehensive pack enhances surgical precision, streamlines workflow, and optimizes patient outcomes. Choosing the Comprehensive Hip Pack ensures that surgeons have the necessary tools to perform with confidence, ultimately benefiting both surgeons and patients in the realm of hip surgeries.