Products: Delivery pack B
Code: JKP-015
Material: Could be made with SMS, Bi-SPP Lamination fabric, Tri-SPP Lamination fabric, Bi-Viscose Lamination fabric, Tri- Viscose Lamination fabric, PE film, SS
Feature: Disposable and EO sterilizable
Contents:
- 1pc Bottom drape 70x3250px
- 1pc Side drape 75x2250px
- 1pc Instrument table cover 150x5000px
- 1pc Reinforced Gown size L
- 1pc Hand towel 30.5x875px
- 1pc Baby wrapper 75x2250px
- 2pcs Legging 75x3000px
- 1pc Umbilical Cord Clamp
- 10pcs X-Ray gauze 10x250px
- 1pc Wrapper 100x2500px
- Customized contents welcome
Packaging: Individual packed in paper&plastic sterile bag
Usage: It is used in the operation room for delivery surgery, the product is no irritation, no toxicity and inodorous to human, there is no energy and no side effect to body. Can be used to improve the ease, efficiency and safety of surgical procedure, meanwhile Reduced the risks of accidental cross infection
Packaging: Individual packed in paper&plastic sterile bag, or customized packing


Streamline Deliveries with the Efficient Delivery Pack B
In a fast-paced world, efficient and streamlined delivery services are crucial for businesses to thrive. The Delivery Pack B has emerged as an efficient solution, revolutionizing the shipping and package management process. In this article, we explore the benefits of utilizing the Delivery Pack B and how it optimizes logistics for seamless and efficient deliveries.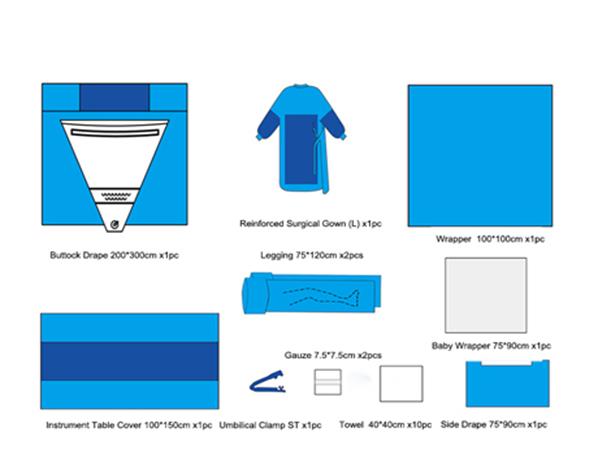 The Delivery Pack B offers a comprehensive solution for businesses, ensuring streamlined deliveries that meet customer expectations. With features such as optimized shipping processes and efficient package management, businesses can provide a seamless shipping experience from start to finish.
One of the key advantages of using the Delivery Pack B is its ability to optimize shipping processes. This pack integrates advanced tracking systems and real-time updates to provide accurate and up-to-date information regarding package location and delivery status. With this information at their fingertips, businesses can effectively manage delivery timelines, ensuring packages reach their destinations in a timely manner.
Efficient package management is another noteworthy feature of the Delivery Pack B. With this solution, businesses can efficiently track and manage packages throughout the entire delivery process. From order fulfillment to delivery confirmation, the pack facilitates smooth package handling and inventory management, reducing the chances of misplaced or lost items.
By utilizing the Delivery Pack B, businesses can improve overall logistics and delivery operations. The streamlined processes ensure faster, more efficient deliveries, boosting customer satisfaction and loyalty. Happy customers are more likely to be repeat customers, contributing to increased sales and business success.
Furthermore, the Delivery Pack B enhances transparency and communication between businesses and their customers. With real-time tracking and delivery updates, customers can stay informed about the progress of their shipments, reducing potential concerns and enhancing their overall satisfaction with the delivery service.
In conclusion, the efficient Delivery Pack B is a game-changer for businesses looking to optimize their delivery services. By providing streamlined deliveries, optimized shipping processes, and efficient package management, this comprehensive solution revolutionizes the logistics behind successful deliveries. Choosing the Delivery Pack B ensures businesses can meet customer expectations, drive customer loyalty, and thrive in the competitive world of package delivery services.