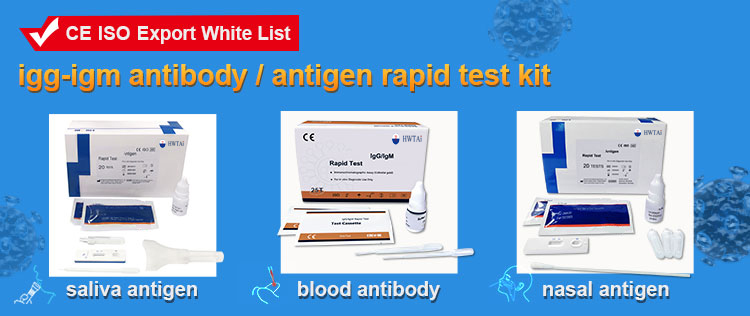 | | |
| --- | --- |
| Product Name | Factory home use igfbp strip test kits for women's healthcare igfbp-1 test cassette for self-testing |
| Specimen | Secretion |
| Method | Colloidal Gold immune chromatographic assay |
| Form/ Dosage Form | In Vitro Diagnostic Medical Rapid test Cassette |
| Reading Time | within 10-15 mins |
| Accuracy | about 99% |
| Format | Strip or Cassette |
| Certification | CE, ISO13485 |
| Shelf Time | 24 months |
| Package | 20 tests/box |
Insulin-like growth factor-binding protein 1 (i-GFBP-1) known as placental protein 12 (PP12) is a protein that in humans is encoded by the IGFBP1 gene. IGFBPs is believed to be important in the regulation of fetal and neonatal growth. We previously reported that the profiles of IGFBPs in fetal cord serum (FCS) were dependent on the growth/metabolic status of the fetus. It can be detected in cervical secretions of pregnant women with preterm uterine contractions, and whether their presence predicts an increased risk of preterm delivery. The abundance of insulin-1like growth factor binding protein-11 at the maternal-1fetal interface in severely preeclamptic pregnancies suggests that the binding protein may participate in the pathogenesis of the shallow placental invasion observed in this disorder. Low circulating insulin-like growth factor-1 and elevated insulin1like growth factor binding protein-1 levels may contribute to restricted placental and therefore fetal growth.
Intend to use
The Insulin-like growth factor binding protein 1 (iGFBP-1) Rapid test (vaginal secretion) is a visually interpreted, qualitative immunochromatographic dipstick test for detection of iGFBP-1 in vaginal secretions during pregnancy, which is a major protein marker of the amniotic fluid in a vaginal sample. The test is intended for professional use to help diagnose the rupture of fetal membranes (ROM) in pregnant women.
Operating Steps
Allow the test device, specimen, buffer, and/or controls to equilibrate to room temperature (15-30°C) prior to testing.
1. Remove the test device from the foil pouch and use it as soon as possible. Best resultswill be obtained if the assay is performed within one hour.
2. Place the test device on a clean and level surface. Transfer the specimen by a Pipette or a dropper:
To use a Pipette: Transfer 5 mL of whole blood to specimen well of the test device, and then add 3 drops of buffer (approximately 180ul), and start the timer.

To use a Disposable Specimen Dropper: Hold the dropper vertically; draw the specimen up to the Fill Line (approximately 5ul). Transfer the specimen to the specimen well, then add 3 drops of buffer (approximately 180ul) and start the timer.

Wait for the colored line(s) to appear. The result should be read at 10 minutes. Do not interpret the result after 20 minutes.

Part of main products, click for more information

Product

Description

Specimen

Package

Mycoplasma
For cultivation, identification, enumeration and 12 antibiotic susceptibility test of UU and MH in one step
midstream urine or secretion
20T/Kit
HbsAg
Hepatitis B Surface Ag test
WB/S/P
25T/Kit
HbsAb
Hepatitis B Surface Ag test
WB/S/P
25T/Kit

HCV

Hepatitis C Virus

WB/S/P

25T/Kit

Malaria

Malaria pf/pv test cassette

Malaria pf/pan test cassette

WB

25T/Kit

TORcH
TORcH IgG/IGM test cassette
S/P
25T/Kit
Dengue
Dengue IgG/IgM Dengue NS1 Dengue IgG/IgM/ NS1 combo
WB/S/P
25T/Kit
Filariasis
Filariasis IgG/ IgM test cassette
WB/S/P
25T/Kit
S. typhoid
Salmonella Typhoid Ag Rapid Test Device
Feces
20T/Kit
Influenza
Influenza A+B Nucleoprotein Antigen Rapid Test Influenza A Antigen Rapid Test Device Influenza B Antigen Rapid Test Device
nasal /throat Swab
25T/Kit
TRO
Troponin I test cassette
WB/S/P
25T/Kit
FOB
fecal occult blood test
Feces
25T/Kit
i-GFBP

i-GFBP-1 Secretion test strip

i-GFBP-1 Secretion test cassette

Secretion
20T/Kit
FFN
FFN secretion test strip FFN secretion test cassette
Secretion
20T/Kit
Chlamydia Trachomatis
CT Ag test cassette
secretion
20T/Kit
HIV 1/2
Human Immunodeficiency Virus (HIV 1/2) test
WB/S/P
25T/Kit