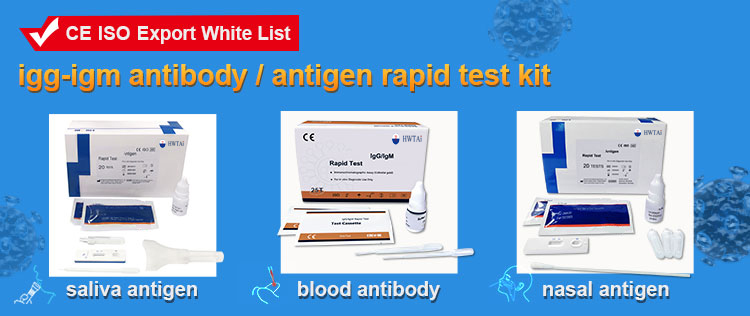 The Influenza A+B & COVID-19(SARS-CoV-2) Antigen Test Kit is an in vitro immunochromatographic assay for the qualitative and differential detection of nucleocapsid protein antigen from influenza A (including the subtype H1N1) , influenza B and/or SARS-CoV-2 in nasopharyngeal (NP) Swab specimens. It is intended to aid in the rapid diagnosis of influenza A, influenza B and/or SARS-CoV-2 infections.
Product advances
1.Rapid testing for Influenza A&B and SARS-CoV-2 antigen within 20 minutes.
2.Facilitate patient treatment decisions quickly.
3.Simple, time-saving procedure & no equipment needed.
4.No cross reaction.
5.High sensitivity and specificity.

Materials and Components
1.Test Device
2.Instruction
3.Antigen Extraction Tube with Extraction Reagent
4.Collection bag
5.Sterilized Swab
6.Timer(Materials required but not provided)
Product Information
| | |
| --- | --- |
| Specification | 25pcs/box |
| Specimen | Nasal Swab,Pharyngeal swab |
| Storage | 4-30℃ |
Test Procedure
Allow test device extraction reagent and specimens to equilibrate to room temperature(15 ~ 30 ℃) prior to testing.Please keep the temperature at 15 ~ 30 ℃ and the humidity at 20%-80% during the whole test.
1.Specimen Collection
(1)If use Pharyngeal swab, gently wipe both sides of the patient's pharyngeal tonsils back and forth at least three times.
(2)If use nasal swab, carefully insert the swab in the patient's nostril. Swab over the surface of the posterior nasopharynx and rotate the swab several times.

2.Testing
(1)Add 10 drops (about 0.4 mL) of the extraction reagent into the extraction tube, and put it on the workstation.
(2)Insert the swab specimen into the extraction tube, rotate the swab for about 10 seconds.

(3)Squeeze the tube several times from the outside of the tube to immerse the swab. Remove the swab.
(4)Insert a dropper tip into the extraction tube tightly.
(5)Remove test cassette from the sealed pouch just prior to testing and ay flat on a clean, level surface.
(6)Add two drops of the test specimens into each specimen well (s). Start the timer.

3.Test Results
Read result at 20 minutes.Do not read results after 30minutes.