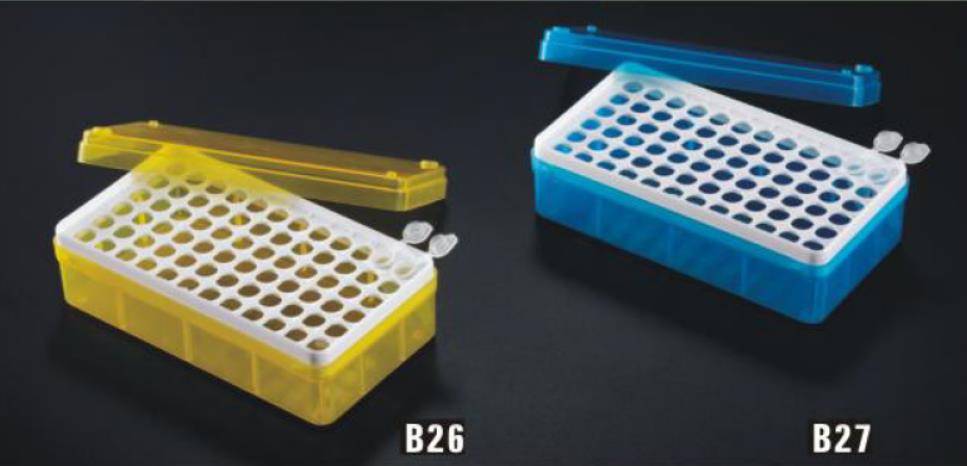 | | | | | |
| --- | --- | --- | --- | --- |
| Item NO. | Description | Packing Info. | Qty./case(pc) | Case Size(cm) |
| B26 | 1.5ml Centrifuge Tube Box | BULK Packed | 50 | 56×35×31 |
| B27 | 0.5ml Centrifuge Tube Box | BULK Packed | 50 | 56×35×31 |
A centrifuge tube box is a vital accessory for laboratories and research facilities that use centrifuges in their daily operations. These boxes are specifically designed to securely hold and transport centrifuge tubes, ensuring the safety and integrity of the samples being processed.
Centrifuge tubes are small, cylindrical containers used to hold liquid samples during centrifugation, a process that separates different components based on their density. However, these tubes can be fragile and susceptible to damage or contamination if not properly handled and stored. This is where the centrifuge tube box plays a crucial role.
One of the primary functions of a centrifuge tube box is to provide protection for the tubes during storage and transportation. These boxes are usually made of durable materials such as polypropylene or polycarbonate, which are resistant to breakage and chemical exposure. By placing the tubes inside the box, researchers can minimize the risk of accidental drops or spills that could compromise the integrity of the samples.
In addition to protection, centrifuge tube boxes also contribute to efficient organization in the laboratory. These boxes often feature dividers or individual compartments that keep each tube separated and in its designated spot. This organization system allows researchers to easily locate and access specific samples without having to sift through a jumble of tubes. The boxes can be labeled or color-coded for further convenience and to ensure accurate identification of samples.
Centrifuge tube boxes are designed to fit standard-sized tubes, ranging from 0.5 mL to 50 mL or more. Depending on the model, these boxes can hold anywhere from a few tubes to several hundred, making them suitable for labs of all sizes. Some centrifuge tube boxes are also stackable, allowing for efficient use of storage space in refrigerators, freezers, or on laboratory shelves.
These boxes come in various designs, including hinged-lid, snap-cap, or screw-cap styles. The choice of design depends on personal preference and specific laboratory requirements. Some boxes may also offer temperature resistance, making them suitable for long-term storage in temperature-controlled environments.
It is important to note that centrifuge tube boxes are not only useful during centrifugation but also serve as a valuable storage solution for samples both before and after the centrifugation process. They provide a safe and organized method for keeping samples protected and readily accessible.
In conclusion, a centrifuge tube box is an indispensable accessory for laboratories that utilize centrifugation techniques. By providing protection, organization, and convenience, these boxes safeguard delicate tubes and the integrity of the samples they contain. Investing in high-quality centrifuge tube boxes ensures that researchers can focus on their work with the confidence that their samples are securely stored and easily accessible when needed.