A Foley catheter is a medical device that is used to drain urine from the bladder. It is a flexible tube that is inserted into the bladder through the urethra. A Foley catheter has a small balloon at the end that is inflated once the catheter is in place, which keeps the catheter from slipping out of the bladder.
Silicone Foley catheters are made of a type of medical-grade silicone that is designed to be soft and flexible, which can make them more comfortable for patients to use. They are also less likely to cause an allergic reaction than other types of catheters.
Silicone Foley catheters can be used for both short-term and long-term urinary catheterization. They come in a variety of sizes to accommodate different patient needs. It is important to follow proper insertion and maintenance procedures to reduce the risk of infection and other complications.
| | |
| --- | --- |
| Certificate | CE, ISO 13485, |
| Material | Silicone |
| Disinfecting Type | EO |
| Shelf Life | 15 Years; |
| HS | 9018390000 |
| MOQ | 12000 Pcs |
| Packing | 1 Pc/Pouch; 10 Pcs/Box; 20 Boxes/ Carton |
| Carton | 52 X 32 X 27 CM |
Products Name

Size (Fr/Ch)

Balloon Capacity(ML)

2-Way Pediatric

6FR

3ML

8FR

3~5ML

10FR

3~5ML

2-Way Adult

12FR

5~10ML

14FR

5~15ML

16FR

5~15ML

18FR

5~15ML

20FR

30ML

22FR

30ML

24FR

30ML

26FR

30ML

3-Way Adult

14FR

30ML

16FR

30ML

18FR

30ML

20FR

30ML

22FR

30ML

24FR

30ML
Understanding the Benefits and Usage of Silicone Foley Catheters in Urinary Management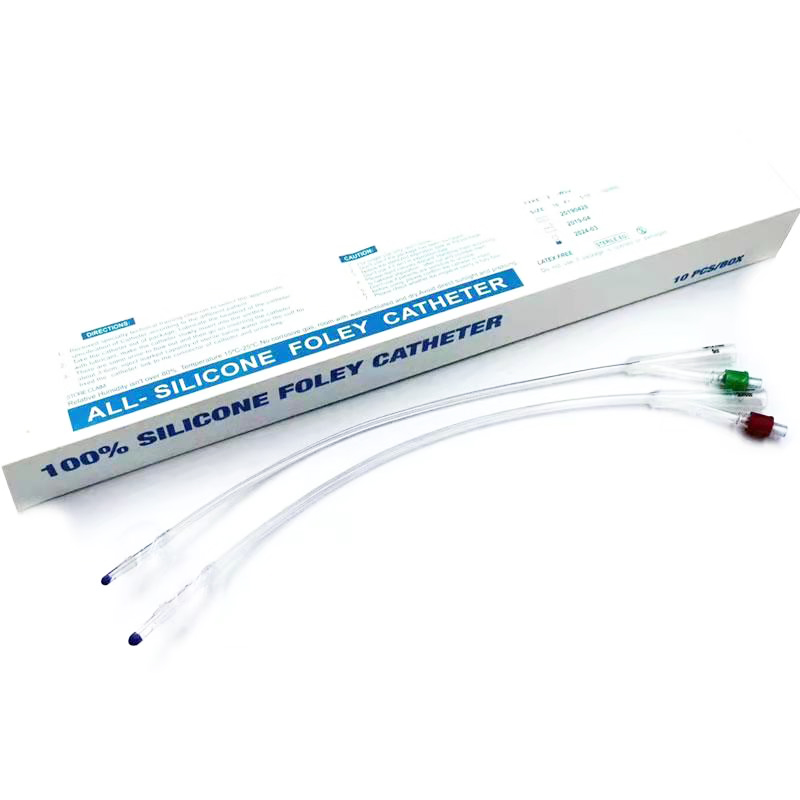 Silicone Foley catheters play a vital role in urinary management, particularly in cases where indwelling catheterization is required. These catheters are specifically designed with a balloon at the tip to secure placement within the bladder, allowing for continuous drainage of urine. Compared to other catheter materials, silicone offers several unique advantages that contribute to improved urinary health and patient comfort.
One of the key benefits of silicone Foley catheters is their superior biocompatibility. Silicone is a bio-inert material, meaning it does not react with bodily tissues or fluids. This property reduces the risk of irritation and inflammation, making silicone catheters suitable for long-term use. Patients experience minimal discomfort and are less likely to develop complications associated with catheter-induced trauma.
In addition, silicone Foley catheters possess a smooth and non-porous surface, which inhibits the formation of encrustations and biofilm. Encrustations, consisting of mineral deposits, can cause blockages and lead to urinary tract infections. By using silicone catheters, healthcare providers can minimize the formation of encrustations, ensuring optimal catheter function and reducing the risk of complications.
Furthermore, silicone catheters are known for their flexibility and resilience. The soft and pliable nature of silicone reduces discomfort during insertion and allows for better adaptation to the anatomy of the urinary tract. This flexibility also prevents kinking or curling of the catheter, ensuring unobstructed urine flow. Patients can experience greater comfort and mobility while the catheter is in place.
Proper care and maintenance of silicone Foley catheters are essential to prevent infections and ensure optimal performance. Healthcare professionals should provide detailed instructions on catheter hygiene, including regular cleaning, catheter securement, and appropriate drainage bag management. Implementing these care guidelines can significantly reduce the risk of catheter-associated urinary tract infections and other complications.
In conclusion, silicone Foley catheters are indispensable in urinary management, facilitating safe and effective indwelling catheterization. Their biocompatibility, resistance to encrustations, flexibility, and resilience contribute to improved patient comfort and reduced complications. Healthcare professionals should prioritize the usage and care of silicone catheters to ensure optimal urinary health and enhance overall patient well-being.