Products: Laparoscopy pack
Code: JKP-008
Material: Could be made with SMS, Bi-SPP Lamination fabric, Tri-SPP Lamination fabric, Bi-Viscose Lamination fabric, Tri- Viscose Lamination fabric, PE film, SS
Feature: Disposable and EO sterilizable
Contents:
- 1pc Laparoscopy drape 200x7500px
- 1pc Instrument table cover 150x5000px
- 2pcs Reinforced Gown size L
- 2pcs Hand towel 30.5x35cm
- 2pcs Op tape 10x1250px
- 1pc Mayo stand cover 80x3625px
- 1pc Tube cover 13x6250px
- 1pc Wrapper 100x2500px
- Customized contents welcome
Usage: It is used in the operation room for laparoscopy surgery, the product is no irritation, no toxicity and inodorous to human, there is no energy and no side effect to body. Can be used to improve the ease, efficiency and safety of surgical procedure, meanwhile Reduced the risks of accidental cross infection
Packaging: Individual packed in paper&plastic sterile bag, or customized packing
Experience Efficiency and Sterility with the Comprehensive Laparoscopy Pack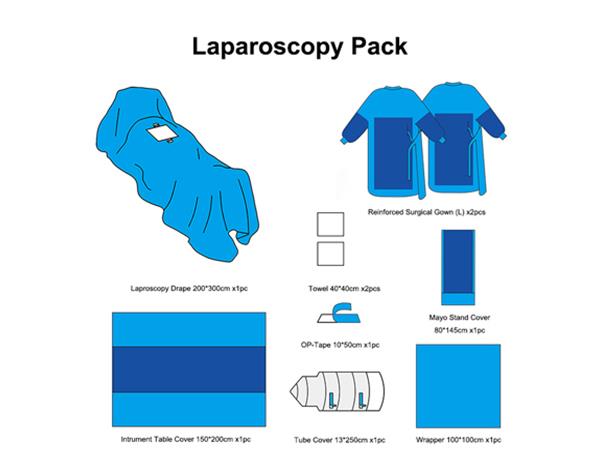 Laparoscopic surgery has transformed the field of surgery by providing minimally invasive procedures with numerous benefits for patients. To ensure successful outcomes, surgeons rely on specific tools and instruments designed explicitly for laparoscopic procedures. The Laparoscopy Pack offers a comprehensive solution, equipped with sterile instruments and essential surgical tools to enhance efficiency and ensure asepsis.
At the core of the Laparoscopy Pack are the sterile instruments carefully curated for laparoscopic surgeries. These instruments are designed to facilitate precise manipulations, allowing surgeons to navigate through the body with minimal invasiveness. With the assurance of sterility, surgeons can operate with confidence, minimizing the risk of infections and complications.
In addition to sterile instruments, the Laparoscopy Pack includes essential surgical tools necessary for successful laparoscopic procedures. These tools enable surgeons to perform a wide range of surgical techniques with precision, ensuring optimal outcomes for patients. From trocars to graspers, the Laparoscopy Pack provides all the necessary instruments conveniently organized for ease of use.
One of the primary advantages of utilizing the Laparoscopy Pack is the significant enhancement of surgical efficiency. With all the required instruments and tools readily available in one comprehensive pack, surgeons save valuable time during the surgical procedure. The streamlined workflow promotes better time management in the operating room, enabling surgeons to focus on delivering excellent care and optimizing patient outcomes.
The Laparoscopy Pack not only improves efficiency but also ensures asepsis during laparoscopic procedures. Sterile instruments minimize the risk of infections, allowing patients to recover faster and experience fewer complications. Surgeons can perform with confidence, knowing that they have access to high-quality, sterile instruments that prioritize patient safety.
In conclusion, the Laparoscopy Pack plays a vital role in enhancing surgical efficiency, ensuring asepsis, and achieving successful outcomes in laparoscopic procedures. By providing surgeons with sterile instruments and essential surgical tools, this comprehensive pack streamlines the surgical process, promotes precise and minimally invasive techniques, and ultimately benefits patients undergoing laparoscopic surgery. Investing in the Laparoscopy Pack equips surgeons with the tools they need for efficient and sterile laparoscopic procedures, benefiting both surgeons and patients alike.