Products: Angiography pack
Code: JKP-007
Material: Could be made with SMS, Bi-SPP Lamination fabric, Tri-SPP Lamination fabric, Bi-Viscose Lamination fabric, Tri- Viscose Lamination fabric, PE film, SS
Feature: Disposable and EO sterilizable
Contents:
- 1pc Angiography drape 210x300cm
- 1pc Instrument table cover 150x200cm
- 2pcs Reinforced Gown size L
- 2pcs Hand towel 40x40cm
- 1pc Solution cup 500ml
- 1pc Sponge
- 1pc Tube cover 75x90cm
- 10pcs X-Ray gauze 10x10cm
- 1pc Wrapper 100x100cm
- Customized contents welcome
Packaging: Individual packed in paper&plastic sterile bag, or customized packing
Usage: It is used in the operation room for angiography surgery, the product is no irritation, no toxicity and inodorous to human, there is no energy and no side effect to body. Can be used to improve the ease, efficiency and safety of surgical procedure, meanwhile Reduced the risks of accidental cross infection
Packaging: Individual packed in paper&plastic sterile bag, or customized packing


Enhancing Angiography Procedures: The Essential Role of Angiography Packs
Angiography procedures have revolutionized the diagnosis and treatment of various vascular conditions. These procedures require meticulous precision, sterile equipment, and utmost attention to patient safety. In this context, angiography packs have emerged as a vital component of successful angiography procedures.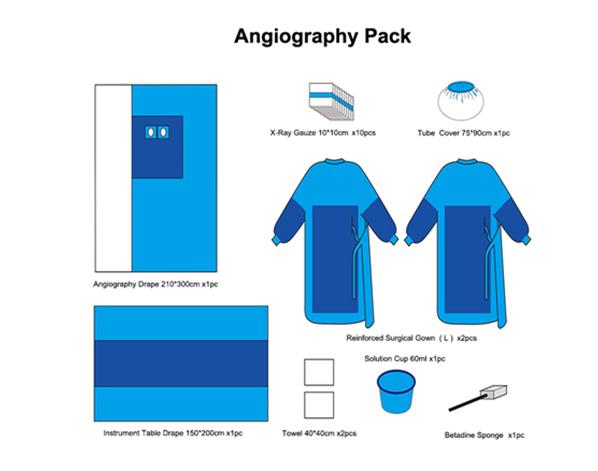 At the core of an angiography pack lies the provision of sterile equipment. From catheters and guidewires to Syringes and contrast media, all essential tools are meticulously sterilized and organized within the pack. This ensures that the medical team has everything they need at their fingertips, saving crucial time and allowing for a seamless procedure.
Moreover, angiography packs prioritize patient safety. As these procedures involve invasive techniques, maintaining a sterile environment is of utmost importance to minimize the risk of infections and complications. Angiography packs are designed to meet the highest infection control standards, helping to safeguard both patients and healthcare professionals.
By utilizing angiography packs, medical professionals can greatly enhance the accuracy and efficiency of angiography procedures. The comprehensive nature of these packs ensures that all necessary equipment is readily available, eliminating the need for time-consuming searches for specific tools. This streamlined approach not only saves time but also leads to improved patient outcomes.
In conclusion, angiography packs play an essential role in enhancing the accuracy and efficiency of angiography procedures. By providing sterile equipment and prioritizing patient safety, these packs contribute to successful vascular imaging and ultimately improve patient outcomes. Healthcare professionals can confidently rely on angiography packs to streamline procedures, ensure infection control, and elevate the standard of care in angiography.