HWTAi Test Solution for Veterinary Diagnosis
HWTAi Test Solution for Veterinary Diagnosis
Based on the technology platforms, HWATi® creats innovative technologies for the developmentof raw materials for diagnostic use, we offer diagnostic total solution such as rapid diagnostic tests(RGTs), fuorescent immunodiagnostic use test, ELISA, molecular dignostic tests and clinical chemistry, we also have a wide range of rapid diagnostic kitsand analyzeers for veter-nary use. A lot of veterinary diseases can be detected accuratelvy by Testsealabs Veterinarv RDTsOur high-tech analyzer offers quantitative results.

The company has developed a series of rapid testst for cattle and sheep diseases, such as Bovine Viral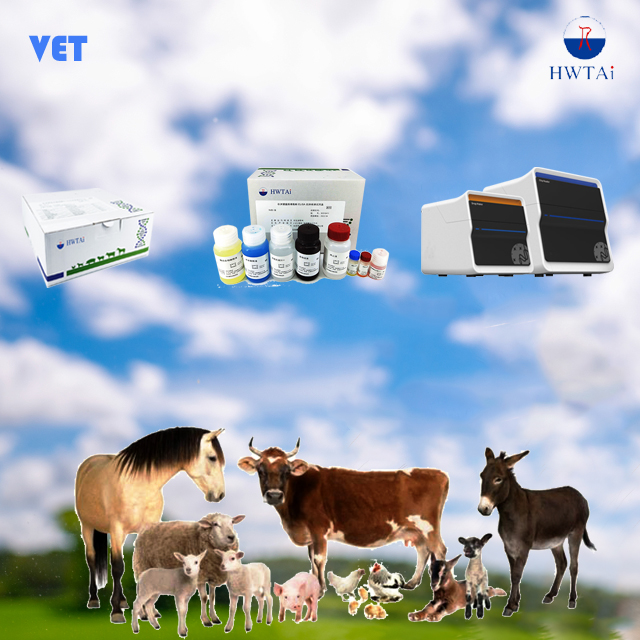 Diarrhea Virus Antibody Test, Bovine Foot and Mouth Diseases Virus Anti-A Antibody Rapid Test, Equine Infectious Anemia Virus Antibody Rapid test and Ovine Cryptosporidium Antigen Test are highly recognized by users at home and abroad, and it fills a gap in the Chinese domestic market.Pet test kits are rich in products, covering a wide range of diseases, The Canine test series for Ehrlichia, lyme, anaplasma, leishmania, heartworm and Babesia, and the Feline test seires like FIV-FELV, FIPV Ab, FHV are leading Products of peer technology are widely welcomed by the market and praised by users.
Veterinary Test Consumables.
1) Bovine & Goat & Swine & Equine
2) Poultry
3) Pet ( Canine & Feline & Avian)
4) Other Animal

OEM service are available.
A. Customized design box.
B.Uncut sheet is available
C.Label is available
D. Any your idea on veterinary diagnostic test we can help you to research and put it into production.